Historical Background
The Arab Women Union Society in Jerusalem is considered as one of oldest women societies in Palestine.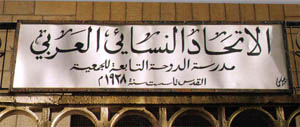 It was established in 1929 by a group of young women headed by Miss Zulaikha Shihabi. Since it early beginning, the society paid all efforts to accimplish the Palestinian national aims of resistance.
It played an essential role through its participation in many national, social activities and popular demonstrations along with assisting rebels, offering medical aid to the wounded, taking care of the martyrs' children and helping families that suffered from various dranatic incidents facing the counry at that time.
The society had also an essential voice to transmit to the outside world: it had a dynamic role in several media activities through organizing conferences, participating in seminars and by initiating meetings with women in Palestine an in the other Arab countries with the objective to shed light on the Palestinian cause and to warn individuals about huge dangers that were facing the Palestinian people since the twenties and the thirties of the century.
The Arab Women Union Society in Jerusalem palyed a pioneering role in spreading awareness, calling for the rights of women and the importance of education and knowledge to help Palestinian women seek a decent position within their professional arena enabling them hence to financially sustain their families and alleviate the economical, social and educational aspects of their society.
The society worked hard, truggled, strived and was determined to continue its mission for over than seventy years regardless of the harsh conditions that faced our country and nation. It cleaved its way, made considerable achievments and was successful in sustaining its financial capacities to improve its activities.
The Society managed to build its own quarters in Jerusalem. Although its' financial aid was unstable until 167 due to the difficult situation that prevailed in the West Bank, the society managed however to continue its activities and its still doing so efficiently.
The Arab Women Union Society in Jerusalem was established by a group of women including:
| | |
| --- | --- |
| Miss Zulaikha Shihabi - Founder of the Society | Miss Catherine Deeb |
| Miss khadejeh Al-Hassani | Miss Anisej Al-Khadra |
| Miss Arnesteen Al-Ghoury | Miss Milia Al-Sakakini |
| Miss Sadeyeh Al-Jaberi | Miss A'isha Al-Husini |
| Miss Bahereh Al-Azameh | Miss Shahina Adazdar |
| Miss Wahedeh Al-Khaldi | Miss Zaheyeh Nashasheebee |
| Miss Namatee Al-Husini | Miss Fatoom Al-Budiri |
| Miss Tarab Abd El-Hadi | Miss Clair Hanania |
The president of the Society, Miss Zulaikha Shihabi, continued her hard work for more than 60 years until her death in 1992. Her work was accompanied by a group of devoted women including: Miss Salma Hussini, Maleha Hussini, Betty Majaj, Samera Shihabee/Jarrallah, Najla Nabulsi, Naheel Bishara, Madeha Nuseibeh and Leizy Nasser.
The names of the Administrative Board Members are:
| | |
| --- | --- |
| Hidaya Budairi | President of the Society |
| Sameyah Al Khaldi | Secretary General |
| Fatima Al Fityani | Treasurer |
| Rana Housaini | Member |
| Nahla Housaini | Member |
| Salwa Shihabi | Member |
| Suhair Dajani | Member |
| lubna Dajani | Member |
| Maysara Al Shareef | Member |
| Randa Sharaf | Member |
| Samera Jaouni | Member |